10-Strike Network Inventory Explorer More Detailed Description – Benefits & Features:
The program allows you to watch which computers are online and quickly get the necessary information from them.

The report creation wizard allows you to create various reports with the necessary data (the report templates are stored for future use).

The program allows saving reports for different computers in separate files, or create one common report file.

10-Strike Network Inventory Explorer collects data with help of WMI technology (learn more about configuring WMI). Though, you do not need to install any additional software on the network computers.

The program collects extensive WMI data (more than 30 groups of hardware and software data items):

Hardware

processor

mainboard
RAM
hard drives (HDD)
CD/DVD drives
USB flash drives
video adapters
network adapters
sound adapters
slots
printers
BIOS
mouse

keyboard, etc.

Software

operating system

updates and hotfixes
startup data
installed software
license information
user accounts and groups
current user
drivers and services
route table
services and processes running

multimedia codecs, etc.

10-Strike Network Inventory Explorer caches WMI data from remote computers and writes it in its own database, which allows viewing network computers' hardware and software at any time (even if you are not connected to the network) and generating reports fast.

The program controls hardware and software changes and writes them to inventory log for later analysis and viewing.
tracking hardware and software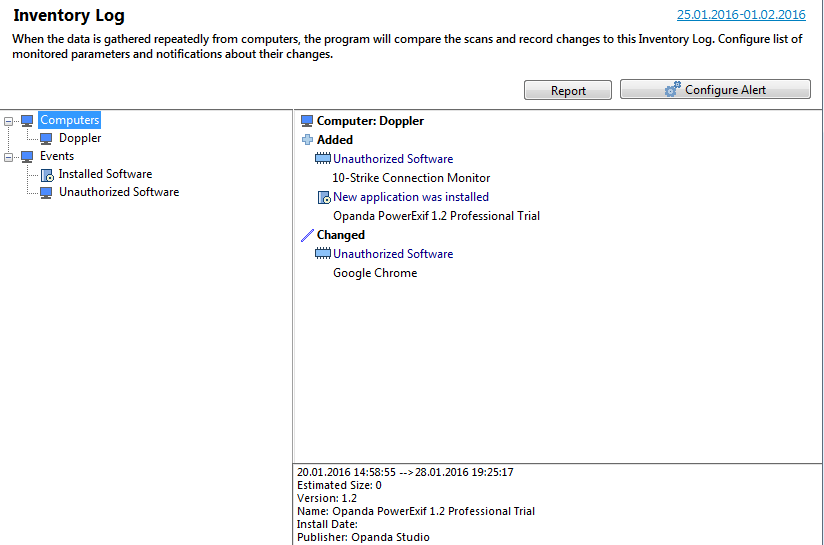 Download It ( for Windows 10, Win 8, Win 7, Vista, XP )

comments powered by

Disqus